Estate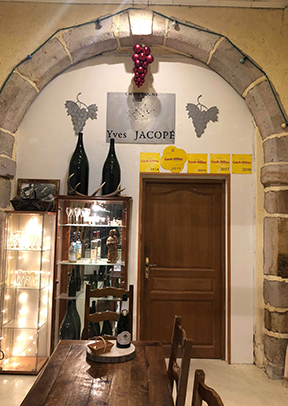 A FEW WORDS OF HISTORY
Cultivated in the Broyes sector since the 1960s, the vines of Champagne Yves Jacopé were planted by Hervé's grandfather, the current owner of the house.
Produced in his name from the 1980s, Champagne Yves Jacopé was officially born at that time. Today it is Hervé accompanied by his daughter Marion, the 3rd and 4th generation, who have taken over.
DISCOVER THE WINERY
In Broyes, at the gates of Sézanne, Champagne Yves Jacopé welcomes you to its Champagne house, to help you discover the estate, a place to welcome and share good times, but above all, a real working tool.
« It is with an attentive and passionate eye, ancestral gestures and filled with pride that we develop the Champagne ... from the vine to the flute. To do this, we have an estate operated over 6 hectares, a press, a recently renovated winery, a cellar and a tasting cellar.
---
RECEPTION AND VISIT
And it is with great pleasure that we welcome you on your next visit to Champagne. We will make you discover our heritage, our expertise and our sense of hospitality around a flute of Champagne. Do not hesitate to contact us before your arrival, you will be almost sure to have a welcome time, to the extent of our possibilities. »
To find out more about our winery or simply to visit us, contact us on +333 26 80 70 72 or by email.